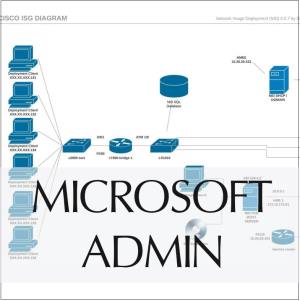 I developed Network Image Deployment (NID) as a system to centrally deploy Microsoft operating systems, based off Microsoft's deployment technologies. Network Image Deployment has been used to deploy computers and servers for companies such as Xerox and The Write Source.
NID can capture, maintain and deploy computer images for a corporate or educational environment. Offline image mounting and updating with hardware independence natively supported allows one central image for each major departmental structure, reducing the costs associated with traditional deployment platforms.
NID is designed to run on a network environment and can be scaled with subnetworks to accommodate data segregation across each of the major departments within the environment.  For off-site or small deployment distributions, NID also includes a DVD Boot compile (for driver injection and custom scripting), turning any two remote client machines into a full scale deployment environment within minutes simply by booting from the DVD.
Functions of Network Image Deployment include:
Major Functions
ISO Compile for Remote Deployment
Prepare_for_capture
Capture
Deploy
Map_a_drive
Boot_DVD
Generate_Key
Mount_wim
Restore_Key
Settings
Tools
Functions to Capture and Deploy Settings
capture_settings
capture_title
deploy_settings
deploy_title
map_a_drive_settings
mount_title
mount_wim_settings
universal_settings
Support Functions
capture_image
choose_file
choose_server
deploy_image
format_drive
generate_log_file
generate_log_file_line
generate_menu
image_selection
import_file_selection
map_drive
mount_wim
restore_drive
shutdown
title_script
unmount_wim
Documentation Thumbnails
Click the link at the top of this page for the full documentation manual.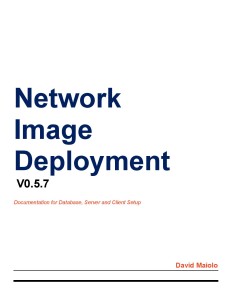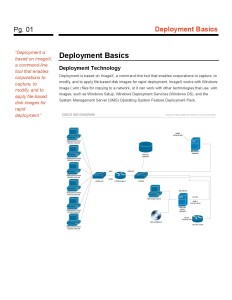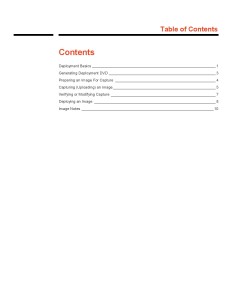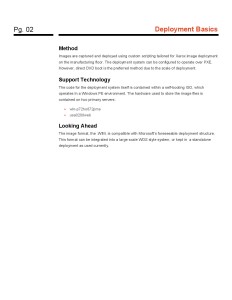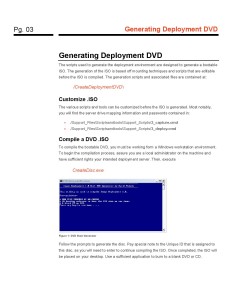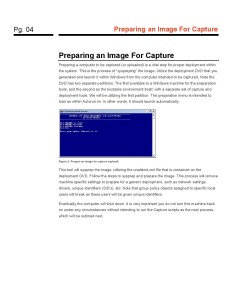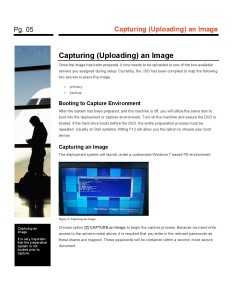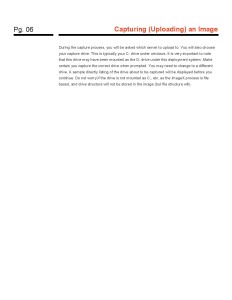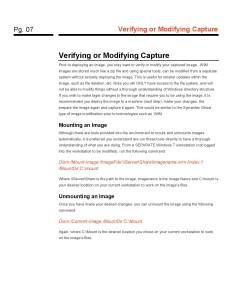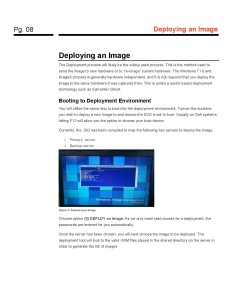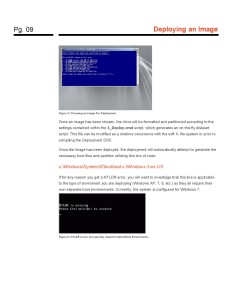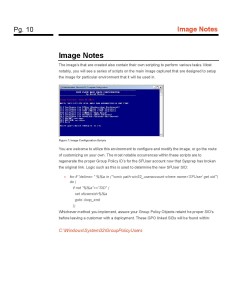 Certain examples include:
Automatic Deployment Based On External Database
function Auto-Selection {
param([String]$imagefile="void")

$ErrorActionPreference = "Stop"
Try {
	$Networks =  Get-WmiObject Win32_NetworkAdapterConfiguration   -Filter "DHCPEnabled=$True" | ? {$_.IPEnabled}
	foreach ($Network in $Networks) {
		$IsDHCPEnabled = $false
		If($network.DHCPEnabled) {
		$IsDHCPEnabled = $true
			}
			[string[]]$MAC += $Network.MACAddress
		}
	if($MAC.Length -ne 0)
		{
			Write-Host ("Local MAC Address: " + $MAC)
		}
	else 
		{
			Write-Host ("Local MAC Address Not Found.")
			Exit 1001
		}
}
	Catch 
	{
		Write-Host ("Local MAC Address Not Found.")
		Exit 1001
	}

$MAC_FROM_FILE = @()
$IMAGE_FROM_FILE = @()

Import-Csv $imagefile |`
    ForEach-Object {
        $MAC_FROM_FILE += $_.MAC
        $IMAGE_FROM_FILE += $_.Image
    }

if ($MAC_FROM_FILE -contains $MAC)
    {
		$Where = [array]::IndexOf($IMAGE_FROM_FILE, $MAC)
		Write-Host "Image From File: " $IMAGE_FROM_FILE[$Where]
    }
else 
	{
		Write-Host ("MAC Does Not Exist!")
		Exit 1001
	}

Clear-Host
Write-Host $IMAGE_FROM_FILE

}
User Setup / Variable Designation
function Set-Variables {
		Clear-Host
		Write-Centered "============================================="  "white"
		Write-Centered "$productTitle $productVersion Setup" "white"
		Write-Centered "=============================================" "white"
		Write-Host 
		Write-Host "Server Connection" -foregroundcolor "green"
		Write-Host "-----------------" -foregroundcolor "green"
		Write-Host "[1] Server:	$serverPath"
		Write-Host "[2] Drive:	$driveLetter"
		Write-Host "[3] Username:	$mapUser"
		Write-Host "[4] Password:	********"
		Write-Host ""
		Write-Host "[5] Return to Main Menu"
		Write-Host ""
		[int]$xMenuChoiceB = 0
		$xMenuChoiceB = read-host "Enter a value to update"
		
		Switch( $xMenuChoiceB ){
	1{
		$script:serverPath = read-host "Enter full path to server ('\\server\share')"
			while ($serverPath.length -le 3) {
				$script:serverPath = read-host "Enter full path to server again (path too short)"
				}
		}
	2 {
		$script:driveLetter = read-host "Enter drive letter for mapping (ex. 'q:')"
			while ($driveLetter.length -ne 2) {
				$driveLetter = read-host "Please re-enter just a single drive letter (ex. 'q:')"
				}
			while (
				($driveLetter.CompareTo("c:") -eq 0) -or 
				($driveLetter.CompareTo("d:") -eq 0) -or 
				($driveLetter.CompareTo("e:") -eq 0) -or
				($driveLetter.CompareTo("f:") -eq 0) -or
				($driveLetter.CompareTo("x:") -eq 0)) {
				$driveLetter = read-host "To avoid conflict, please choose a different drive letter"
				}
		}
	3 {
		$script:mapUser = read-host "Enter new user"
			while ($mapUser.length -le 2) {
				$script:mapUser = read-host "Enter new user again (name too short)"
				}
		}
	4 {
		$script:mapPassword = read-host "Enter new password"
			while ($mapPassword.length -le 2) {
				$mapPassword = read-host "Enter password again (password too short)"
				}
		}
	5 {
		return
		}
	default {
		Write-Centered "Incorrect Selection Entered" "red"
		sleep -seconds 2
		Set-Variables
		}
	}
		
		Write-Host Updating values...
		sleep -seconds 1
		New-Object -TypeName PSCustomObject -Property @{
			"Product Author" = $productAuthor
			"Product Title" = $productTitle
			"Product Build Date" = $productBuildDate
			"Product Version" = $productVersion
			"Testing Product Now" = $productTestingNow
			"Server Path" = $serverPath
			"Drive Letter" = $driveLetter
			"Map User" = $mapUser
			"Map Password" = $mapPassword
		} | Export-Csv -Path $setupFile2 -NoTypeInformation
		Set-Variables
}
Log Files
function Generate-Log-File {

Write-Output "========================================================================" | Out-File $logFile -width 120
Write-Output "Log File	:	$pcHost-$dateStamp.log" | Out-File $logFile -width 120 -Append
Write-Output "------------------------------------------------------------------------" | Out-File $logFile -width 120 -Append
Write-Output "Log Date	:	$(get-date)" | Out-File $logFile -width 120 -Append
Write-Output "App Name	:	$productTitle $productVersion" | Out-File $logFile -width 120 -Append
Write-Output "App Date	:	Product Build $productBuildDate" | Out-File $logFile -width 120 -Append
Write-Output "App Author	:	$productAuthor" | Out-File $logFile -width 120 -Append
Write-Output "Host Name	:	$env:computername" | Out-File $logFile -width 120 -Append
Write-Output "User Name	:	$env:username" | Out-File $logFile -width 120 -Append
Write-Output "========================================================================" | Out-File $logFile -width 120 -Append

if (!$?){
	Write-Host "Error. Could Not Generate Log File." -ForegroundColor "Red"
	sleep -seconds 30}
else{
	Write-Host "$computerHost_$dateStamp.log Log File Generated..."
	sleep -seconds 1}

#if (!$?){
#	Generate-Log-File-Line "Type" "Failed."}
#else{
#	Generate-Log-File-Line "Type" "Passed."}

}

function Generate-Log-File-Line ($logType,$logText) {

Write-Output "$(get-date -f MM-dd-yyyy_HH_mm_ss)| $logType : $logText" | Out-File $logFile -width 120 -Append

if (!$?){
	Write-Host "Could not add to log file."
	sleep -seconds 5}
else{
	Write-Host "Logging..."
	sleep -seconds 1}
}
Drive Mapping
function Map-Drive ($driveLetter,$serverPath,$mapUser,$mapPassword){
	$logType="MAP DRIVE"
	[int]$counter
	Clear-Host
		if ($driveLetter.length -le 1) {
			Write-Host "=============================================================="
			Write-Host "$productTitle $productVersion Map Drive Utility"
			Write-Host "=============================================================="
			$driveLetter = read-host "Enter drive letter to map (ex. 'q:')"
			while ($driveLetter.length -ne 2) {
				$driveLetter = read-host "Please re-enter just a single drive letter (ex. 'q:')"
				}
			while (
				($driveLetter.CompareTo("c:") -eq 0) -or 
				($driveLetter.CompareTo("d:") -eq 0) -or 
				($driveLetter.CompareTo("e:") -eq 0) -or
				($driveLetter.CompareTo("f:") -eq 0) -or
				($driveLetter.CompareTo("x:") -eq 0)) {
				$driveLetter = read-host "To avoid conflict, please choose a different drive letter"
				}
			if ($serverPath.length -le 1) {$serverPath = read-host "Enter full path to server ('\\server\share')"}
			if ($mapUser.length -le 1) {$mapUser = read-host "Enter full username ('domain\user')"}
			if ($mapPassword.length -le 1) {$mapPassword = read-host -assecurestring "Enter password"}
			}
		
		if ($mapPassword.length -le 1) {
			Write-Host CREDENTIALS REQUIRED FOR $mapUser.ToUpper TO MAP $serverPath.ToUpper
			Write-Host "==============================================================="
			$mapPassword = read-host -assecurestring "Enter password for $mapUser"}
		
		Write-Host "Removing $driveLetter if it exists..."
		$net = new-object -ComObject WScript.Network
		if (Test-Path -path $driveLetter) {$net.RemoveNetworkDrive("$driveLetter")}
		Write-Host "Attempting to map $driveLetter to $serverPath ..."
		$net.MapNetworkDrive("$driveLetter", "$serverPath", $false, "$mapUser", "$mapPassword")
		
		if (!$?){
			$counter++
			Generate-Log-File-Line $logType "FAILED attempt $counter of 3 to map $serverPath to $driveLetter."
			Clear-Host
			if ($counter -eq 1) {
				Write-Host "Drive could not be mapped! Trying automatic settings again..." -ForegroundColor Red
				sleep -seconds 5
				Map-Drive $driveLetter $serverPath $mapUser $mapPassword}
			
			if ($counter -eq 2) {
				Write-Host "Drive could not be mapped! Removing automatic settings..." -ForegroundColor Red
				sleep -seconds 5
				$driveLetter=$null
				$serverPath=$null
				$mapUser=$null
				$mapPassword=$null
				Map-Drive $driveLetter $serverPath $mapUser $mapPassword}
				
			if ($counter -eq 3) {
				Write-Host "Drive could not be mapped! Exiting map program." -ForegroundColor Red
				sleep -seconds 5
				return}
				}
		else{
			Write-Host "Testing for proper mapping..."
			sleep -seconds 4
			Generate-Log-File-Line $logType "SUCCESS in mapping $serverPath to $driveLetter."
			Write-Host "$serverPath was mapped successfully." -ForegroundColor Green
			sleep -seconds 5}
}

Automated ISO and EXE Compiling Based On User Variables
If a deployment network needed a quick PXE server to deploy certain images, a custom ISO can be built that includes injected NIC drivers AND injected drivers of all host machines, in addition to custom parameters for the network. This is significant as it allows one HAL independant image to be deployed without internet connection to various (and unknown) equipment rapidly across a network. Since this part isn't particularly important to how my system works, I will display the tool's full code here:
@echo off&cls
REM By David Maiolo

set currentdir=%CD%
set Scriptsandtools=%currentdir%\Support_Files\Scriptsandtools
set driversdir=%currentdir%\Support_Files\Drivers
set datapath=%currentdir%\Support_Files\Scriptsandtools\Support_Scripts\data
notepad %datapath%\config\universal_settings.cmd
call %datapath%\config\universal_settings.cmd

color 1f
echo -------------------------------------------------------------
echo %product_title% %product_version% ISO Generator by %product_author%
echo -------------------------------------------------------------
echo.
echo This utility is used to compile %product_title% %product_version%.
echo.
echo Prerequisites:
echo.
echo * RUN THIS PROGRAM AS AN ADMIN!
echo * CD burning software to burn the ISO when we are done.
echo * A blank CD or DVD.
pause
color 1f
cls

:STEP1

cd %currentdir%\Support_Files
cls
echo ==================================================================
echo Step 1: Set up a Windows PE build environment
echo ==================================================================
REM ---------------------------------------------
echo.
rd %install_dir%
set install_dir=c:\imagedeployment_DVD_%product_version%
echo The installation directory is:
echo.
echo %install_dir%
echo.
set askinstall_dir=n
set /p askinstall_dir=Would you like to change this install dir for some reason?(y/n)
if %askinstall_dir%==y (goto updateinstall_dir) else goto skipinstall_dir

:updateinstall_dir
set /p install_dir="Enter new install path. Do not use spaces ('c:\david_is_cool'):"

:skipinstall_dir
rd /s /q %install_dir%
echo Run a script...
call copype.cmd x86 %install_dir%

echo Copy the base image into the sources folder and rename the file to Boot.wim...
copy %install_dir%\winpe.wim %install_dir%\ISO\sources\boot.wim

:STEP2
cls
echo ==================================================================
echo Step 2: Add boot support
echo ==================================================================
REM --------------------------

echo Apply the image to the \mount directory by using the DISM tool...
Dism /Mount-Wim /Wimfile:%install_dir%\ISO\sources\boot.wim /index:1 /MountDir:%install_dir%\mount

echo Add the appropriate boot support files and directory...
copy %install_dir%\ISO\bootmgr %install_dir%\mount
mkdir %install_dir%\mount\boot
xcopy /cherky  %install_dir%\ISO\boot %install_dir%\mount\boot\

:STEP3
cls
echo ==================================================================
echo Step 3: Copy custom tools and scripts
echo ==================================================================
REM ---------------------------

xcopy /s /e %Scriptsandtools% %install_dir%\mount
rename %install_dir%\mount\autorun.txt autorun.inf
copy /y %install_dir%\mount\autorun.inf %install_dir%\ISO
copy /y %Scriptsandtools%\Support_Scripts\Generate_Key.cmd %install_dir%\ISO
copy /y %Scriptsandtools%\Support_Scripts\Restore_Key.cmd %install_dir%\ISO
copy /y %Scriptsandtools%\Support_Scripts\Mount_wim.cmd %install_dir%\ISO
copy /y %Scriptsandtools%\Support_Scripts\1_prepare_for_capture.cmd %install_dir%\ISO
copy /y %Scriptsandtools%\Support_Scripts\tools\startnet.cmd %install_dir%\mount\Windows\System32
copy /y %Scriptsandtools%\Support_Scripts\tools\winpe.bmp %install_dir%\mount\Windows\System32
copy /y %Scriptsandtools%\Support_Scripts\tools\winpe.jpg %install_dir%\mount\Windows\System32
copy /y %Scriptsandtools%\Support_Scripts\tools\oledlg.dll %install_dir%\mount\Windows\System32
copy /y %Scriptsandtools%\unattend.xml %install_dir%\ISO
md %install_dir%\ISO\CreateDVD
REM echo Adding Powershell..
REM Dism /Add-Package /Image:"%install_dir%\mount" /PackagePath:%currentdir%\Support_Files\x86\WinPE-WMI.cab
REM Dism /Add-Package /Image:"%install_dir%\mount" /PackagePath:%currentdir%\Support_Files\x86\WinPE-WMI_en-us.cab

REM Dism /Add-Package /Image:"%install_dir%\mount" /PackagePath:%currentdir%\Support_Files\x86\WinPE-NetFx4.cab
REM Dism /Add-Package /Image:"%install_dir%\mount" /PackagePath:%currentdir%\Support_Files\x86\WinPE-NetFx4_en-us.cab

REM Dism /Add-Package /Image:"%install_dir%\mount" /PackagePath:%currentdir%\Support_Files\x86\WinPE-Scripting.cab
REM Dism /Add-Package /Image:"%install_dir%\mount" /PackagePath:%currentdir%\Support_Files\x86\WinPE-Scripting_en-us.cab

REM Dism /Add-Package /Image:"%install_dir%\mount" /PackagePath:%currentdir%\Support_Files\x86\WinPE-PowerShell3.cab
REM Dism /Add-Package /Image:"%install_dir%\mount" /PackagePath:%currentdir%\Support_Files\x86\WinPE-PowerShell3_en-us.cab

pause
REM echo Creating Deployment DVD Staging Files...
REM echo xcopy /s /e %currentdir% %install_dir%\ISO\CreateDVD
REM xcopy /s /e %currentdir% %install_dir%\ISO\CreateDVD

REM Add Drivers
echo Adding Drivers from %driversdir%...
Dism /Image:%install_dir%\mount /Add-Driver /Driver:%driversdir% /Recurse

:STEP4
cls
echo ==================================================================
echo Step 4: Configure BCD store: %install_dir%\mount\boot\BCD
echo ==================================================================
REM ---------------------------

Del %install_dir%\mount\boot\BCD
Bcdedit /createstore %install_dir%\mount\boot\BCD
Bcdedit /store %install_dir%\mount\boot\BCD -create {bootmgr} /d "Boot Manager"
Bcdedit /store %install_dir%\mount\boot\BCD -set {bootmgr} device boot
echo Generating GUID...
Bcdedit /store %install_dir%\mount\boot\BCD -create /d "WINPE" -application osloader
set /p guid_variable="Enter GUID from output above (including '{' and '}':"

Bcdedit /store %install_dir%\mount\boot\BCD -set %guid_variable% osdevice boot
Bcdedit /store %install_dir%\mount\boot\BCD -set %guid_variable% device boot
Bcdedit /store %install_dir%\mount\boot\BCD -set %guid_variable% path \windows\system32\winload.exe
Bcdedit /store %install_dir%\mount\boot\BCD -set %guid_variable% systemroot \windows
Bcdedit /store %install_dir%\mount\boot\BCD -set %guid_variable% winpe yes
Bcdedit /store %install_dir%\mount\boot\BCD -displayorder %guid_variable% -addlast

:STEP5
cls
echo ==================================================================
echo Step 5: Commit Changes to %install_dir%\mount
echo ==================================================================
REM --------------------------
Dism /Unmount-Wim /MountDir:%install_dir%\mount /Commit

:STEP6
cls
echo ==================================================================
echo Step 6: Create a bootable CD or DVD to %install_dir%\winpex86.iso
echo ==================================================================
REM --------------------------
oscdimg -n -b%install_dir%\etfsboot.com %install_dir%\ISO %install_dir%\winpe_x86.iso
REM Oscdimg -n -m -o -b%install_dir%\Etfsboot.com %install_dir%\ISO %install_dir%\winpe_x86.iso
move %install_dir%\winpe_x86.iso %USERPROFILE%\Desktop\deployment_DVD_%product_version%.iso
cls
color 2f
echo -----------------------------------------------------
echo   %product_title% %product_version% Boot DVD creation Complete!
echo -----------------------------------------------------
echo.
echo You can find your ISO file on your desktop.
REM Explorer /select,%USERPROFILE%\Desktop\winpe_x86.iso
pause
echo Removing Temp files...
rd /s /q %install_dir%
color 07

Automated ISO and EXE Compiling Based On User Variables