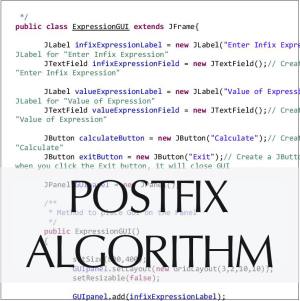 Given an arithmetic expression in the infix notation, this algorithm computes its value in postfix notation and then computes an arithmetic expression. Using a GUI-based interface we can evaluates a C-style arithmetic expression and display its value.
For some background, the C language does not have separate Boolean data types and hence has NO Boolean expressions. It handles Boolean values true and false as non-zero and zero numbers. (Zero is false, and anything other than zero is true). An expression in C contains, numbers, arithmetic and comparison operators and logical connectives. We must first accommodate for this missing Boolean ability.
The algorithm is comprised of the following files:
ArrayListStack.java
ArrayStack.java
Expression.java
ExpressionEvaluator.java
ExpressionEvaluatorTester.java
ExpressionGUI.java
InfixToPostfixConverter.java
IStack.java
PostfixEvaluator.java
Token.java
For simplicity, we will only handle:
comparison operators: <, <=, >, >=, ==, !=
binary logical operators: &&, ||.
Binary arithmetic operators +, -, *, /, %
We allow positive integer arguments and only those operators mentioned above. We assume C-style evaluation: false = 0 and true = 1 (anything non-zero). Thus 1 > 2 has a value of 0 (false).
public class InfixToPostfixConverter
{
    // Expression to be  converted
    private Expression infixExpression;
    
    //Largest size of the stack
    private final int MAXSTACKSIZE = 20;
    
    //Resulting postfix expression
    private Expression postfixExpression;
    
    /**
     * Constructor: Just assigns the parameter to instance variable
     */
    public InfixToPostfixConverter(Expression infix)
    {
        infixExpression = infix;
    }
    
    /**
     * Main conversion algorithm. 
     */
    public void convertToPostfix()
    {
        //Create an empty postfix expression
        postfixExpression = new Expression();
            
        //create an empty operator stack
        ArrayStack<Token> operatorStack = new ArrayStack<Token>(MAXSTACKSIZE);
        
        //Temporary local variables
        Token nextToken = null;
        Token topOfStack = null;
        
        //Main loop
        ArrayList<Token> expr = infixExpression.getExpression();
        for (int k = 0; k < expr.size(); k++)
        {
            //Get the next token from infix expression
            nextToken = expr.get(k);
            
            //If it is an operand append it to postfix
            if (nextToken.isOperand())
                postfixExpression.add(nextToken);
                
            //If it is an open parenthesis push it into stack
            else if (nextToken.isOpenParen())
                operatorStack.push(nextToken);
          //If next token is a closed parenthesis
            else if (nextToken.isClosedParen())
            {
                //Keep pulling operators out of stack and appending
                //them to postfix, until top of stack is an open paren
                topOfStack = operatorStack.top();
                while (!topOfStack.isOpenParen())
                {
                    postfixExpression.add(topOfStack);
                    operatorStack.pop();
                    topOfStack = operatorStack.top();
                }
                //and then discard the open paren
                operatorStack.pop();
            }
            //If it is an operator ...
            else if (nextToken.isOperator())
            {
                // get the precedence of this token
                int tokenPrecedence = nextToken.getPrecedence();
                
                // If stack is empty, push nextToken into stack
                if (operatorStack.isEmpty())
                   operatorStack.push(nextToken);
                else 
                {
                    //Get the precedence of the top of the stack
                    topOfStack = operatorStack.top();
                    
                    //If the top of stack is an open parenthesis push nextToken
                    if (topOfStack.isOpenParen())
                        operatorStack.push(nextToken);
                    else
                    {
                        //Get the precedence of the top of stack
                        int stackPrecedence = topOfStack.getPrecedence();
                        
                        //if nextToken's precedence is > that of top of stack's
                        //push next token into stack
                        if (tokenPrecedence > stackPrecedence)
                            operatorStack.push(nextToken);
                        else
                        {
                            //Keep pulling operators out of stack and appending
                            //them to postfix, as long all all these conditions are true
                            while ((tokenPrecedence <= stackPrecedence) &&
                                    (!topOfStack.isOpenParen()) &&
                                    (!operatorStack.isEmpty()))
                            {
                                topOfStack = operatorStack.pop();
                                postfixExpression.add(topOfStack);
                                if (!operatorStack.isEmpty())
                                {
                                    topOfStack = operatorStack.top();
                                    stackPrecedence = topOfStack.getPrecedence();
                                }
                            }
                            
                            //At the end push nextToken into Stack
                            operatorStack.push(nextToken);
                        }
                    }
                }
            }
            
            else
            {
                System.out.println
                    ("Illegal String in InfixToPostfixConverter");
                break;
            }
        }
        //At the end of the infix expression: pull all the operators 
        //out of the stack and append them to postfix
        while (!operatorStack.isEmpty())
        {
            topOfStack = operatorStack.pop();
            postfixExpression.add(topOfStack);
        }
    }
    /**
     * Retriever method: returns the current postfix expression
     */
    public Expression getPostfix()
    {
        return postfixExpression;
    }
   
}
To demonstrate the algorithm, we will use a tester and we will convert and evaluate the following infix expressions:

Infix Expression:       10 * 5 + 3
Postfix Expression:     10 5 * 3 +
Value of Expression:    53

Infix Expression:       10 * ( 7 + ( 12 - 9 ) ) / 10
Postfix Expression:     10 7 12 9 - + * 10 /
Value of Expression:    10

Infix Expression:       100 % ( ( 3 + 2 ) + 3 ) / 4
Postfix Expression:     100 3 2 + 3 + % 4 /
Value of Expression:    1

And to demonstrate the GUI, we can manually enter infix values and conclude their arithmetic result: