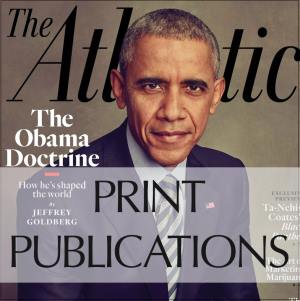 Covering a college graduation in New York state, my images caught the attention of "The Atlantic", appearing in the April 2016 issue, showcasing one of the publication's education studies. The image was featured in the April 2016 article, "The Growing College Degree Wealth Gap: A new report demonstrates a stubborn chasm between rich and poor students earning bachelor's degrees", written by Mikhail Zinshteyn. Zinshteyn is a contributing writer for The Atlantic and a program manager at the Education Writers Association.
Zinshteyn routinely selects images from from premier media corespondents such as The Associate Press (AP) and Reuters and as such it was an honor to be included in his media selection.
About
The first issue of The Atlantic Monthly appeared in November of 1857, and the magazine, which billed itself as a "journal of literature, politics, science, and the arts," was an immediate success. Russell Lowell, one of the founders of the publication, unswervingly trained his attention on American writers, providing a home both for the younger American talents, whom he cultivated, and for the established ones. The magazine thrived. Within two years the circulation of The Atlantic Monthly had risen above 30,000. The number of paid subscribers today is roughly 460,000; newsstand sales average more than 50,000 copies a month. All told, it is estimated, at least 1.2 million people, not including the mail carriers, put their hands on each issue of The Atlantic Monthly.