Google Interview – Role Related Knowledge (RRK)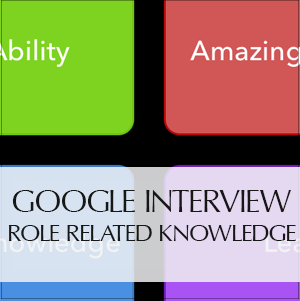 Let's cover some basic items that will give more clarification for success in the RRK portion of the Google Interview.
The Role Related Knowledge portion of the interview is Google's interest in how your individual strengths combine with your experience to drive impact. Google is not just looking for how you can contribute today, but how you can grow into different roles, including one's that haven't even been invented yet.
Make sure to review your Job Description and assure you have studied up on items in the description. A good way to put this together is to:
Highlight Keywords / Phrases
Create a Streamlined Overview
Compile / Create Practice Interview Questions

How do you identify risk in a program?
Tell me about a time you identified risk in a program.
Here are some other key items to think about on how you will be evaluated during the RRK Portion of the interview process.
Individual Strengths – Tying your strengths to the specific job you are interviewing for. The strengths component shows up on the open-ended, high-level, generic level. For this, try and remove your strengths from your career and talk about them at a higher level.
Experience to Drive Impact – When you think about your examples, the more directly that example correlates with that position, the better it is. But make sure to focus on your greatest strengths.
Combine – How are we making sure we are staying consistent? Pull generic content out of your examples and tie those back to the position you are interviewing for to give role-alignment. This can see high, level and theoretical but just try and combine the behavioral with the high-level generic and this will give you better success.
Future Contribution – Google doesn't just look for how you contribute today. For all roles at Google, you must pass the hiring committee. To determine if you get hired, the committee will look at your fit not only for the role, but also as a contributor for the future. This is constantly discussed in hiring committees. You can help display depending on how you solve vague questions, etc. (questions that have nothing to do with anything.
Growing into your role – Do you have a growth mindset? You can show this by talking about:

How you develop your skills
How you work hard
How you learn from mistakes
Embrace challenges
Welcome feedback
Celebrate other people's success
https://www.davidmaiolo.com/wp-content/uploads/2021/08/Google_Interview_RRK_small-1.png
301
300
David Maiolo
https://www.davidmaiolo.com/wp-content/uploads/2023/11/cropped-David-Maiolo-Logo3b-ICON-300x300.png
David Maiolo
2021-08-23 17:40:00
2021-08-23 17:40:00
Google Interview – Role Related Knowledge (RRK)