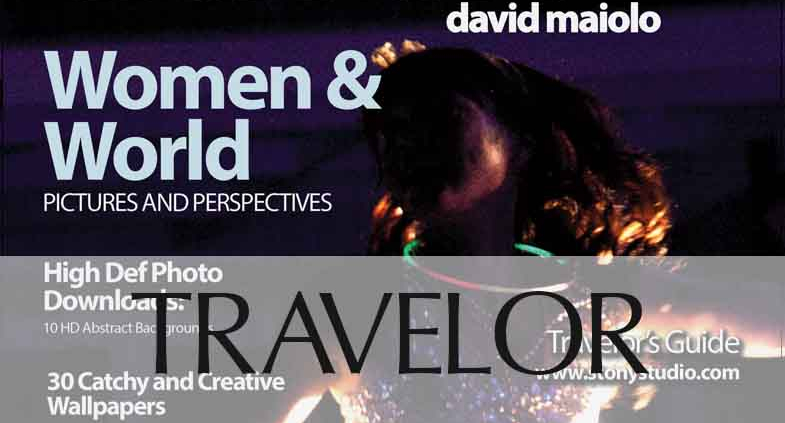 Produced by: Stony Studio
Photographer and Writer: David Maiolo
Cover Design: PSD Graphics
travelor: Women and World (January 2016, Issue 2)
In January 2016, I had the opportunity to dedicate an entire edition of my small online travel magazine, "travelor," to a women's rights initiative that I had been focusing on for nine months. The result was the second issue of the magazine, entitled "Women and World."
Throughout my travels, I had observed the various cultural and beauty standards that women face in different areas of the world. I was struck by the stark differences in what is considered "beautiful" or "acceptable" for women in different cultures, and I wanted to bring attention to this issue through my work.
The magazine features articles that explore the challenges women face, as well as their triumphs and successes in different cultures. Each article is written with a light tone, incorporating photography and travel tips throughout. It is my hope that "Women and World" will not only entertain and educate readers, but also inspire them to become advocates for women's rights around the globe.
Through my work at Stony Studio, I am able to use my passion for travel and photography to shed light on important issues and make a positive impact in the world.
travelor: Getting Inside North Korea (November 2015, Issue 1)
For over two years, I immersed myself in the stories and culture of North Korea to produce the first issue of travelor magazine. Titled "Getting Inside North Korea", this issue offers an unprecedented glimpse into the hermit kingdom, highlighting its unique and often baffling customs and practices.
To produce this issue, I spent months in North Korea, gaining firsthand experience and insights into its society and people. I entered the country from Beijing, China, and navigated through its strict regulations to bring readers a nuanced and authentic portrayal of this fascinating nation.
Through stunning photography and compelling narratives, "Getting Inside North Korea" uncovers the complexities of life in one of the world's most enigmatic and closed-off societies. The issue also includes insider tips and advice for those who may be considering their own visit to this intriguing destination.
As a travel magazine, travelor offers a fresh and insightful perspective on the world's diverse cultures and experiences. "Getting Inside North Korea" is a testament to our commitment to uncovering the hidden and often surprising aspects of the world around us.
https://www.davidmaiolo.com/wp-content/uploads/2014/06/travelor_magazine-1.jpg
788
785
David Maiolo
https://www.davidmaiolo.com/wp-content/uploads/2023/11/cropped-David-Maiolo-Logo3b-ICON-300x300.png
David Maiolo
2014-06-09 07:18:22
2014-06-09 07:18:22
travelor Magazine